Welcome To Habesha Restaurant
Experience authentic ethiopian food at Habesha restaurant !!
Habesha Restaurant is the answer to exciting ethiopian dining. With colorful and authentic atmosphere, traditional furniture and typical ethiopian décor, Habesha is a truly urban oasis hidden in the heart of exotic food lover city which is Paris (Vaugirard district).
A new way of experiencing Ethiopian food that is tasty, clean, and healthy, yet authentic. You sit at low basket-weave tables and appreciate this spicy ethiopian dish without utensils (using flat spongy bread, called "Injera" instead).

It is a small establishment with ethiopian decor , music, and delicious food served in traditional Ethiopian ceremonial style.
Complement your meal with fine Ethioipan beer (St George, Bati, ...)
Prices are reasonably moderate.
Unforgettable Service
We make your dining adventure as exciting and unforgettable as possible.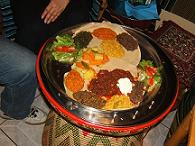 Do you have a special occasion to celebrate ?
Need to make your birthday party, anniversary or celebration a truly memorable ? Then please contact the Habesha restaurant on 0033143060942 or email to habesha@inbox.com
Habesha brings Ethiopia at your finger tips in the heart of Paris
Come to Habesha Restaurant and try our famous "Discovery" menu and enjoy a combination of different traditional menu items. This comes in two versions : vegetarian (all veggie ethiopian food in one plate) or non vegetarian.
The French, ethnic food lovers
The particularity of the french people is that they are one of the rare ethnic food lovers in Europe. They are themselves known world wide by their culinary expertise and what is also more surprising is that they indulge themselves in anything "exotic" and appreciate.